Description
Ergonomic socks –

– 43301
You will love our ergonomic POWER STRETCH socks from POLARTEC. Made with POLARTEC's high performance POWER STRETCH knit, the ergonomic socks are stretchy and help keep you warm and dry, maximizing comfort and ease so you can move freely. Its nylon outer face reduces friction and ensures greater abrasion resistance and longer life. Its brushed polyester inner face creates a wicking effect that draws moisture away from the skin while continuously wicking to the outer surface.
Designed and manufactured in Quebec/Canada.
2 sizes available
S/M for women, size 6-10
L/XL for men, size 9-13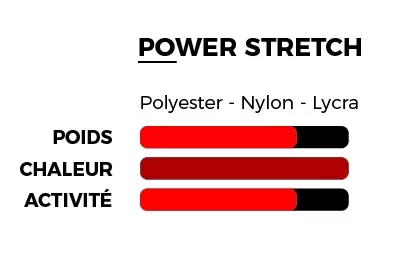 High performance knit
240gr/m2. 53% polyester / 38% nylon / Spandex ®. 





4 way stretch
Interior in brushed polyester
Nylon exterior
Recovers its form
Helps keep you warm and dry
Moisture wicking
Fast drying
Great resistance to abrasion
Flat lock
Ergonomic
Anti-pilling
Average weight
Wicking transfer
Machine washable